Montenegro is a country of incredible beauty and an amazing coastline is a large part of its charm. Budva Riviera has the largest number of beaches in the country; we will tell you about the most popular ones.
Ploče
This beach, 6 kilometers (3.7 miles) away from Budva in the Tivat direction, has a very unusual configuration — slabs of rocks, stacked one on another in its natural form. The area is equipped with descents into the sea, the bottom is pebbly and the water is exceptionally clear. Slightly in the distance you can notice the rearing pieces of volcanic rocks, the molten magma, which froze when faced with cold air.
Children and adults can enjoy games, foam parties and sport activities every day in season. There are four swimming pools with sea water, recreation areas, small shops and a restaurant with excellent cuisine. You can get to the beach by the sea, renting a boat cost only 5 euros.
Trsteno
You can go to this tiny beach in the Grbalj area of the Budva Riviera by bus or by car. The sandy beach with clean air and crystal clear water has everything you need, including showers and cabanas.
Jaz
Very popular beach near Budva with a camping area and a spacious parking lot.
The total length of the coastline is 2500 meters (1.6 miles), partly it is sandy, and partly small-pebbled. There are many sports activities, equipment rental for water sports, a large inflatable children's castle with a playground, restaurants and cafes.
This is perhaps the most famous holiday destination on the entire Adriatic coast. A-list celebrities including Madonna and Rolling Stones performed here, and it annually hosts Sea Dance, the largest music festival in the region. Many travel magazines put Jaz in the TOP 10 best beaches in the world.
Plaža Ričardova Glava
Cozy romantic beach at the walls of the Old Town of Budva with a pier far out to sea and a picturesque views. Prices for beach equipment and parking are high due to central location.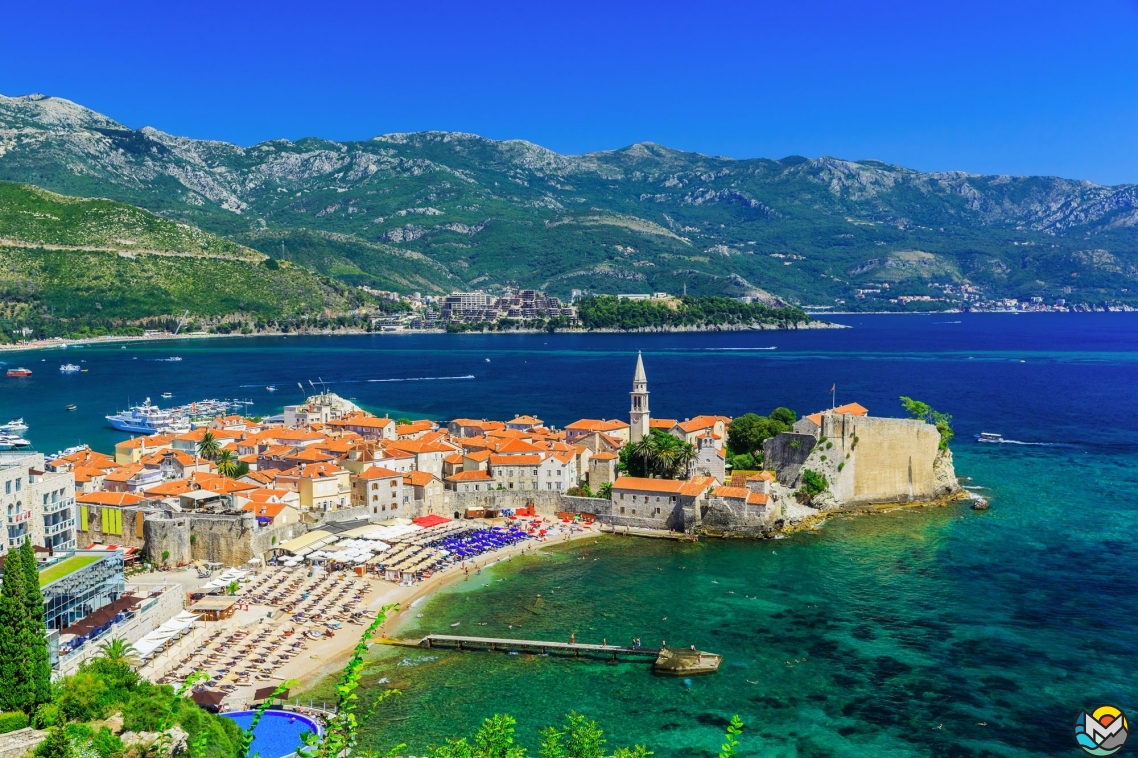 Mogren-1 and Mogren-2
A scenic narrow path from the Ričardova Glava through Avala Hotel leads to the two small beaches. They are connected by a tunnel in a huge rock, with the total length only 350 meters (380 yards).
Proximity to Budva, amazing views and peaceful and quiet ambience make this place popular for walks, even in winter.
Hawaii Beach at St.Nicholas Island
On the island of St. Nicholas, which is visible from every corner of Budva, lays a pebble and sandy beach called Hawaii. It is reachable only by the sea. Water taxis are in service and the price is about 5 euros per person per trip.
The beach is quite sizable, about 800 meters (0.5 miles) and with a lot of sports entertainment. The nearby restaurant serves the freshest seafood.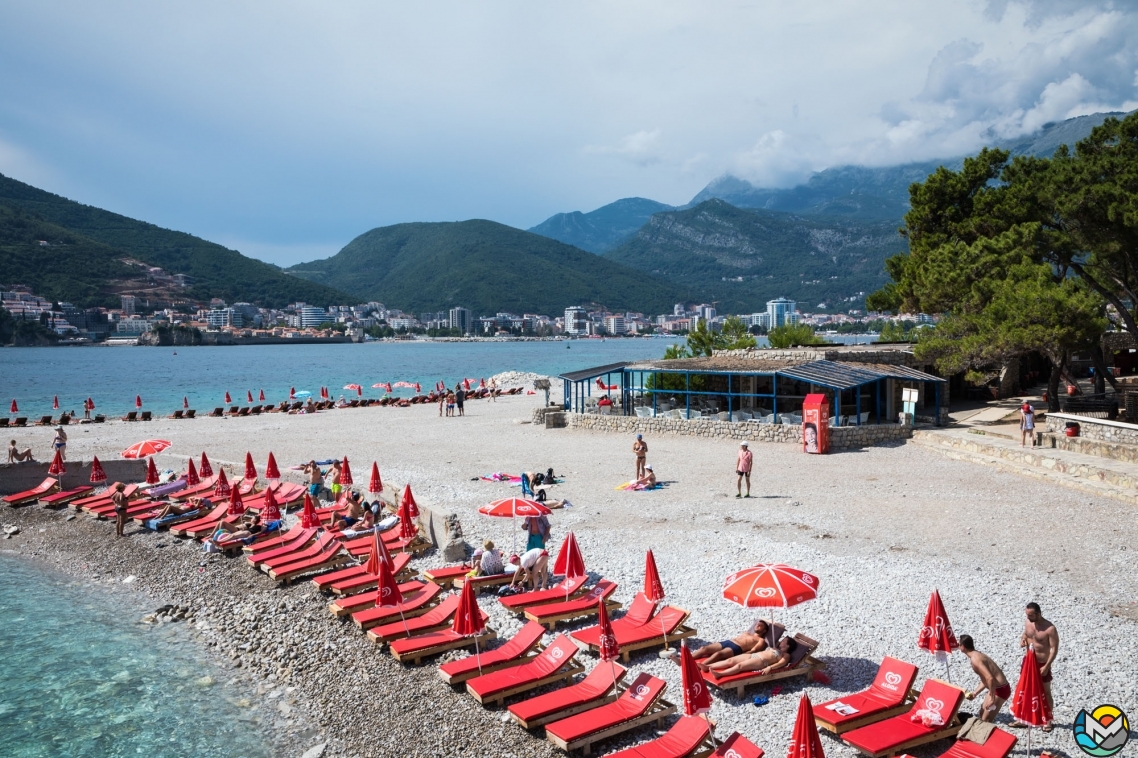 Slovenska plaža
Slovenska plaža is another long beach, 1650 meters (about 1 mile) of pebble coastline. This is a great place for both family holidays and relaxed personal time. For lovers of summer sports there are rides, water skiing, parachuting, training zones.
The beach is equipped with the necessary equipment at affordable prices, dressing rooms, showers, playgrounds and descent into the water for people with disabilities.
There are plenty of restaurants and cafes nearby. Boats to the St. Nicholas Island and the Hawaii beach also run from here.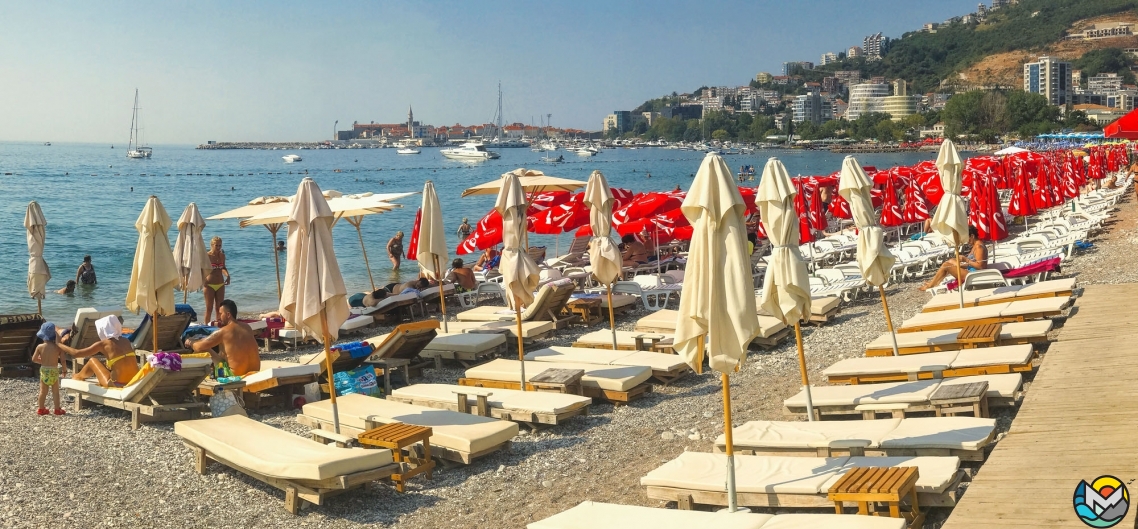 Dukley
Beautiful pebble beach at the beginning of the Zavala peninsula, the succession of the Slovenska plaža, but with its own special atmosphere. A great place for family entertainment and romantic evenings. Posh restaurant, comfortable sun beds, parking.
Bečići
One of the longest beaches on the Adriatic Sea, Bečići starts from the village of Rafailovici and ends at Zavala peninsula. Luxurious wide beach with small pebbles and sand is a favorite destination of tourists from around the world.
Naturally, there are all sorts of restaurants and bars, kids playgrounds, equipment rental centers for outdoor sports.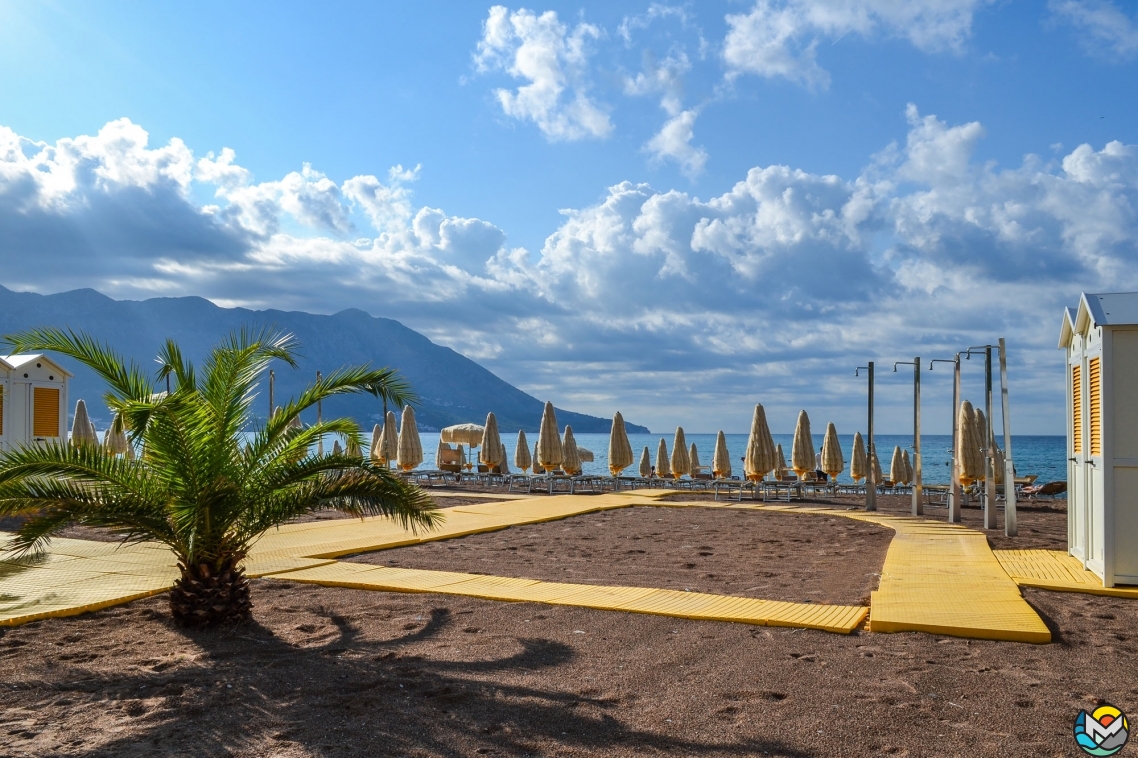 Mr Stefan Braun in Bečići
All the young people in Montenegro know this place, the beach club Mr Stefan Braun grabbed off a part of Bečići beach, and became the center of dynamic lifestyle.
It offers the best cocktails and the best music, creating an atmosphere of chic parties.
Crvena Glavica
Crvena Glavica consists of seven small beaches at the area of Sveti Stefan. The cozy place, with the reddish stones — hence the name Crvena Glavica, Red Head — is protected by cliffs and pine forests.
Rafailovići
This compact beach — about 500 meters (0.3 mile) — is very popular among tourists and locals. The beach is not far away from Budva and is reachable by foot.
Kamenovo
This clean, comfortable, safe and beautiful beach is perfect for family vacation. Sun loungers, umbrellas, showers are available. There is also an excellent volleyball court and good restaurant.
Pržno
A small town of Pržno is a historical place, in the past it was a fishing village that grew and developed. Now a popular resort, Pržno is famous for its incredible fish restaurants. On the shore moored many boats, which serve as taxis to the island of Sveti Stefan. The beach itself is covered with pleasant tiny pebbles and have all the necessary infrastructure.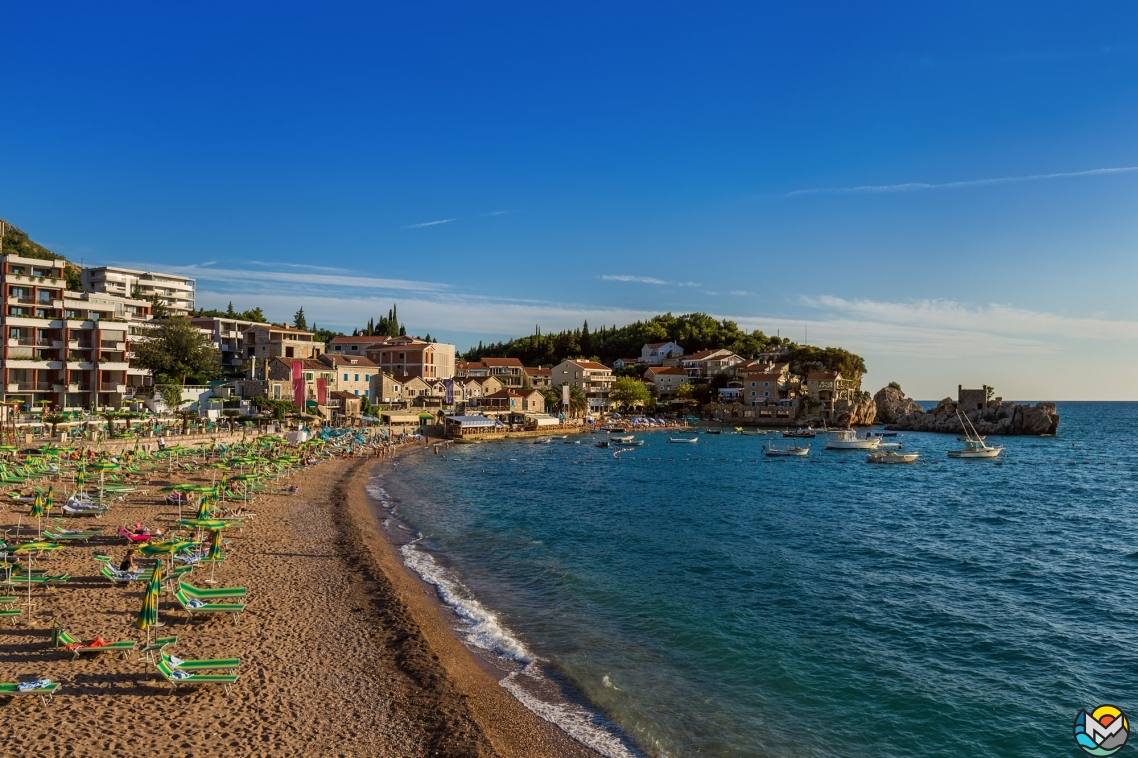 Kraljicina Plaža
This is one of the most picturesque places on the entire coast of the Adriatic Sea. Cypress groves, olive trees and pine forest intertwined in one place, creating a soothing atmosphere. Perfect cleanliness of the shore and water, a cozy natural amphitheater and rich aromatic air guarantee a peaceful rest and best holiday photoshoots.
Miločer
Miločer lays between Sveti Stefan and Pržno. Its 400-meter (quarter of a mile) territory is surrounded by cypresses and rare plants, and protected from winds by scenic rocks. The former summer spot of the Karadjordjevic dynasty, Miločer will please even the most demanding tourists, and the paid entrance allows to enjoy the sea and the sun without seasonal crowds.
Sveti Stefan
The legendary beach near the island of Sveti Stefan is recommended to visit at least once — if only for wonderful photoshoots. This is a charming place with a soft sand, clear turquoise water and pine aroma in the air. You can spend an unforgettable summer day here dining, playing, sunbathing or just strolling around.
Galija
Galija Beach near the island of Sveti Stefan is part of the camping Crvena Glavica. It is small, neat and clean, fully equipped with beach infrastructure. Some tourists consider it the most beautiful beach of the Budva Riviera. Transparent aquamarine-colored seawater creates an atmosphere of paradise on earth.
Drobni Pijesak
The cozy and tranquil beach of Drobni Pijesak — Fine Sand — is surrounded by silver olive groves. Its peculiarity — freshwater springs and delicate sand, which is reflected in the name. In addition, it is usually not crowded. Sun loungers can be rented and parking is free.
Plaža Perazića Do
Calm pebbled beach Perazića Do hides in the bay under the Reževići Monastery. This is a nice comfy place with a cafe, free parking and everything you need for a relaxing day.
You can get to Perazića Do by car, drive 5 kilometers (3 miles) from the town of Petrovac, or you can walk 2 kilometers (1.2 miles) along a pedestrian road at the foot of the hill. The road goes through illuminated tunnels and offers amazing views of the Budva Riviera.
Rijeka Reževići
Ringed by olive groves and rocky mountains, between Sveti Stefan and Petrovac, is the small beach of Rijeka. It is a pleasant place to unwind, away from Budva's hustle and bustle. There is an interesting restaurant with an art gallery and a garden and the charming atmosphere is complemented by ethno-jazz music.
Petrovac
The main public beach of Petrovac, 800 meters (0.5 mile) long, stretches out in the picturesque harbor at the Castello Fortress. It is covered with pebbles and incredible reddish sand surrounded by olive and pine trees. A nearby promenade has many restaurants, cafes and souvenir shops. The town of Petrovac is considered the best holiday spot for families with small children.
It is worth noting that at the height of the season — July-August — the beach is really cramped, so if you want to have fewer neighbors ashore, walk towards Lucice.
Lučice
Nice sandy Lučice beach was seemingly designed for children's feet. It is clean and comfortable, with cerulean water and pine-scented air, an ideal place for the family vacation.
Buljarica
Buljarica beach stretches from Petrovac towards Bar for 2400 meters (1.5 miles). This is the largest beach in the Budva Riviera with camping areas, cafes and restaurants and all the necessary infrastructure.
-
This is our most interesting beaches near Budva, but do not limit your choice only to this list, on our website you can find the information about the whole coast of Montenegro.
More about the beaches:
Top 10: Best Beaches in Montenegro
Bar Riviera
Ulcinj Riviera
Beaches of the Bay of Kotor and the Gulf of Risan
The beaches of Herceg Novi Riviera
Beaches of Lustica and Grbalj
Beaches of Tivat Bay