Tivat Riviera does not have many beaches, but all of them offer quality service with affordable prices. There are public beaches and beach clubs, and secluded places for romantic weekends. Beautiful, pleasant, effortless — these words fully describe the Tivat bay coast.
Tivat City Beach
The central promenade next to the infamous Porto Montenegro, in summer turns into a pleasant place for sunbathing and swimming.There are many cafes, restaurants and bars along the entire promenade, a lazy day transforms into an active nightlife.
Island of Flowers
Amazingly beautiful place with sandy beach surrounded by lush Mediterranean vegetation. The territory has all infrastructure, cafes and restaurants. This is one of the favorite places for tourists from all over the world.
Plaža Ponta Seljanovo
Small pebbled beach at the end of Cape Seljanovo. It is a beautiful, open, sunny place with breathtaking views, a restaurant, a few jetties and parking.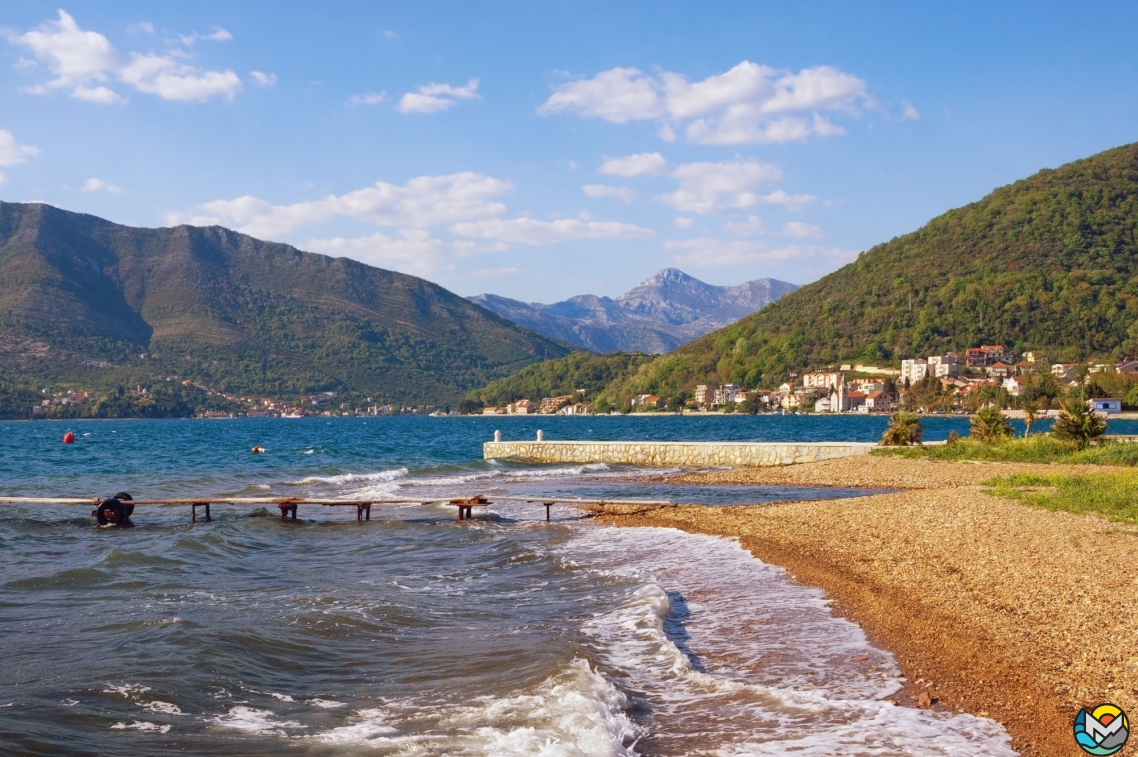 Solila
An unusual place on the coast of Tivat Bay, a nature reserve founded by the government of Montenegro to preserve rare species of birds and plants. Nearby sits Movida Restaurant and Lounge Club, new and already very popular. There is an excellent well-equipped beach, tasty restaurant, pier and trendy nightclub.
Kukoljina Plaža
An ideal place for summer family weekend, cozy beach right next to Tivat airport, surrounded by the magnificent Kukoljina grove.
Belani Plaža
The pebble beach at the very beginning of the central tourist zone of the city, not far from marina Kalimanj. There are sunbeds for rent, lifeguards on duty and you can watch planes taking off and landing while suntanning.
Lepetani-Opatovo Plaža
Along the Lepetani-Tivat road, in the village of Opatovo, rolls a small — 100 meters (330 feet) — sandy beach, picturesque and romantic. It has all the infrastructure and parking, and is never crowded.
Kamelija
The promenade in front of Kamelija Hotel, in the village of Donja Lastva, about 1 kilometer away from the center of Tivat.
Krašići
Krašići, a charming village in the Tivat municipality, once a favorite vacation spot of the Yugoslav communist elite, is located on the Luštica peninsula. The village's entire coast, about 1,500 meters (1 mile), is a more or less civilized beach. This is mainly concrete piers, but there are also pebbled areas with a smooth descent into the water. Small hotels and beach clubs offer sunbeds and umbrellas for rent.
Kalardovo
Kalardovo is a place behind the Tivat airport, not far from the Island of Flowers. It is equally well suited for family vacation and for night parties by the water. The beach is sandy and the water is shallow and warm. There are sun loungers and umbrellas, several changing rooms, showers, a restaurant with national cuisine, parking and life guards.
This is our most interesting beaches near Tivat, but do not limit your choice only to this list, on our website you can find the information about the whole coast of Montenegro.
More about the beaches:
Top 10: Best Beaches in Montenegro
Bar Riviera
Budva Riviera
Ulcinj Riviera
Beaches of the Bay of Kotor and the Gulf of Risan
The beaches of Herceg Novi Riviera
Beaches of Lustica and Grbalj