Tivat is a modern town located in the ancient Bay of Kotor, or simply Boka, and a convenient transport hub. This town is known to almost every traveler, for the odds are high that most come to Montenegro by plane and land at Tivat Airport.
Usually, most tourists do not go much further in getting to know the town than that, and yet, doing so is an omission. Every year, more and more tourists choose Tivat as their main holiday destination.
In this overview, we will enlighten you on where Tivat's best beaches are, how to take part in a regatta, rent a bike, get to see some ancient villages up in the mountains, take a tour of the islands in the bay, and pay a visit to a luxury resort. And of course our list of places to go wouldn't be complete without an overview of some catchy cafes and spiffy restaurants.
Geography
The town is located in the gulf of Tivat on the Vrmac peninsula. Mount Vrmac marks Tivat off Kotor, another town further into the bay. Surprisingly, Tivat can be said to be the center and the middle of the coast because of its convenient location in relation to the country's other cities and towns.
Mount Vrmac is now pierced with a manmade tunnel that makes travelling to Kotor quick and easy and taking only 15 minutes by car. Yet, there is a lengthier but undeniably more picturesque road to Kotor, that is, the coastal drive along the slopes of the Bay. However, this road is very narrow, and unless you have some sightseeing on mind, you'd better go for the tunnel.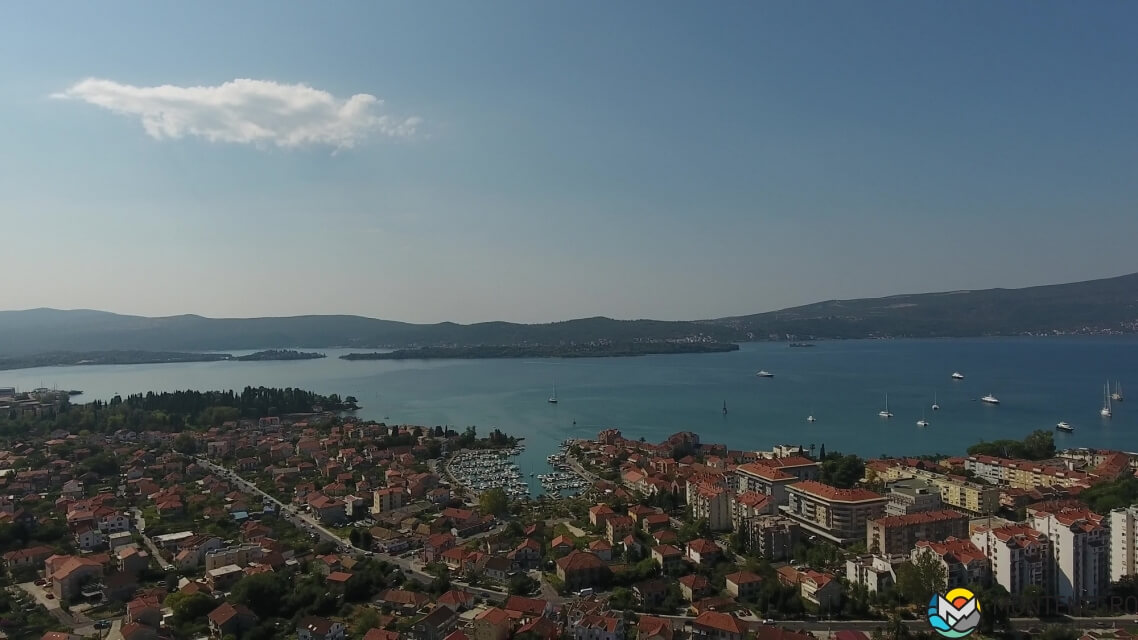 Tivat Municipality and Herceg Novi Municipality connect across the Verige Strait with Kamenari-Lepetane Ferry Line. One-way passenger car ride costs EUR4.5, bikers are charged EUR1, while foot passengers may travel for free. In the summer, the ferry is very much in demand because it is not only a convenient connection between the two towns, but also a shortest way to Croatia, Bosnia and Hercegovina, and other countries up the Adriatic coast.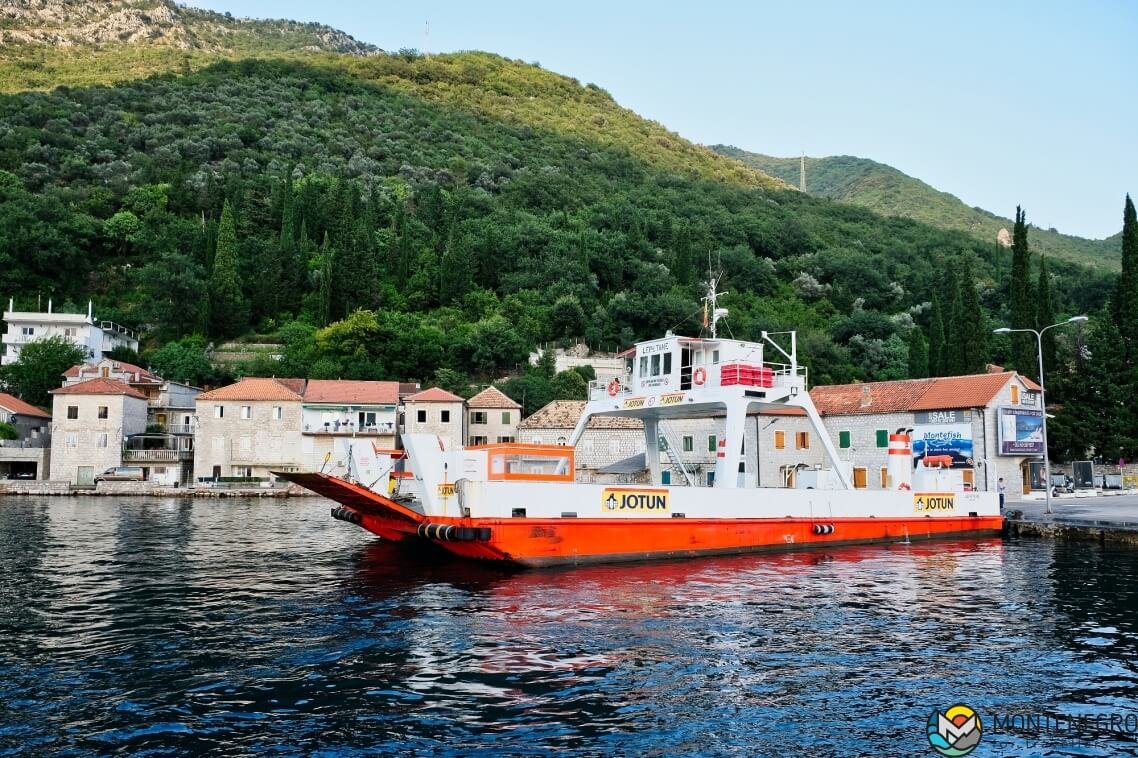 A direct thoroughfare with 80 km/h speed limit, a limit that is rarely seen anywhere else in Montenegro, connects Tivat and Budva.
All towns along the coast and farther inland are accessible by bus. The bus station in Tivat is a little way off the airport.
3 km away from the town, right at the waterfront there is Tivat International Airport. The airport welcomes more than 100 aircrafts a day on-season, its flight geography expanding every year. In December 2018, a new, second terminal was inaugurated at the airport.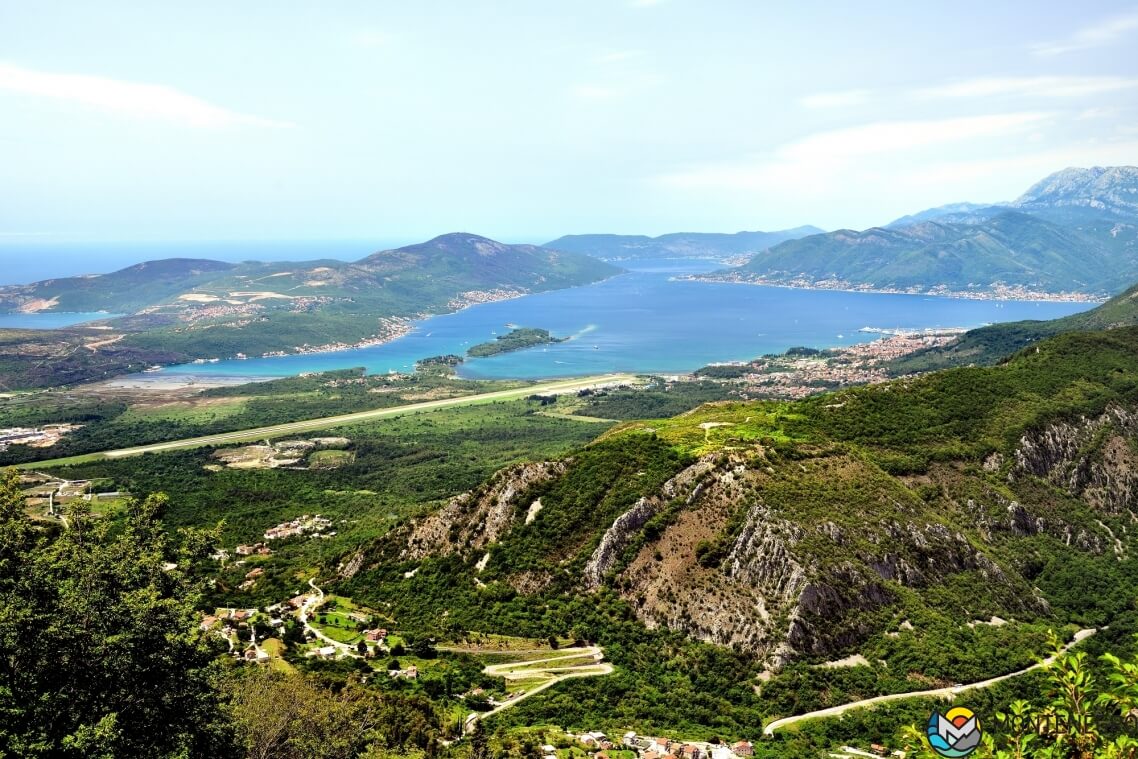 History
It is commonly believed that Tivat was founded in the III c. BC and takes its name after Teuta, the famous queen of Illyria. Archeological diggings testify that later the area was populated by Romans and Byzantines.
In XIII c., the Monastery of Holy Archangel Mikhail on the Island of Flowers in the Bay of Kotor, also known as "Miholjska prevlaka", hosted the residence of the orthodox Metropolitan of Zeta, a middle-age Serbian principality. That was why Tivat was the center of orthodox culture until the XV c.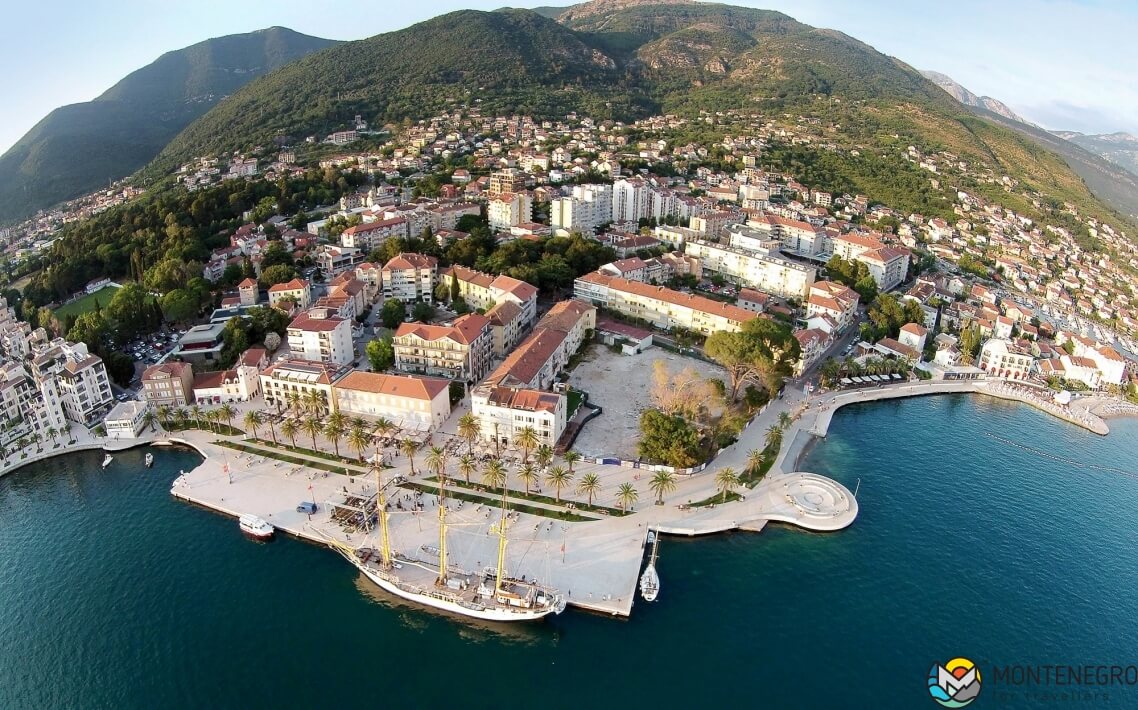 Since 1420, along with other towns of Boka Kotorska, Tivat made it to the Venetian Republic as a constituent of Albania Veneta (Venetian Albania). After that, Tivat went successively through the rules of France and Austro-Hungary, then became part of in Kingdom Yugoslavia and, eventually, landed with the SFRJ (Socialist Federal Republic of Yugoslavia) after its foundation.
Sightseeing
What makes Tivat different is that has no Old town (or Stari Grad) in the traditional sense; however, the town is abundant in historic and architectural sites which sometimes hide among relatively modern buildings.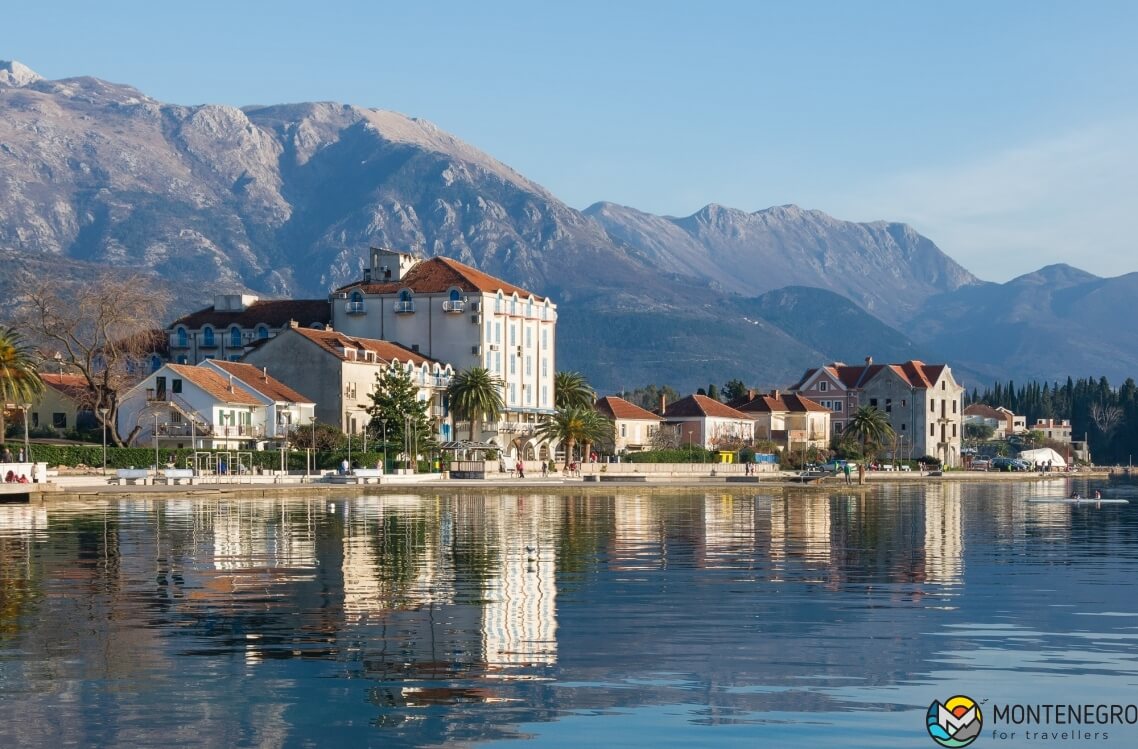 One of the most prominent architectural sites is located in the very center of the town and it is the Buca castle. It was built in the ХVI century as a summer residence of the Bucas and the Lukovices, the two families widely known in Kotor. The castle consists of a residential house, St. Michael's chapel, a garden, and a tower, all enclosed by a stone wall. Today, the castle has been turned into a contemporary cultural and exhibition space hosting a variety of events. It also rooms the local ethnographic museum.
In the center of Tivat there is the great town park. It is one of the biggest municipal parks by area in Montenegro. It is so big that it has a full-size football field. It was set up in 1892 during the Austro-Hungarian rule by Admiral Maximilian Daublebsky von Sterneck. He ordered his navy captains to plant a tree every time their ships hit Tivat. The park covers more than 4 hectares, the land that was kindly offered by the Radali and Lukovic families. It boasts a variety of rare plants, and the tree-planting tradition has been observed by locals up to these days: they plant a tree every time something important happens in their lives. In 2014, the town park was declared a natural asset of Montenegro and a monument of nature.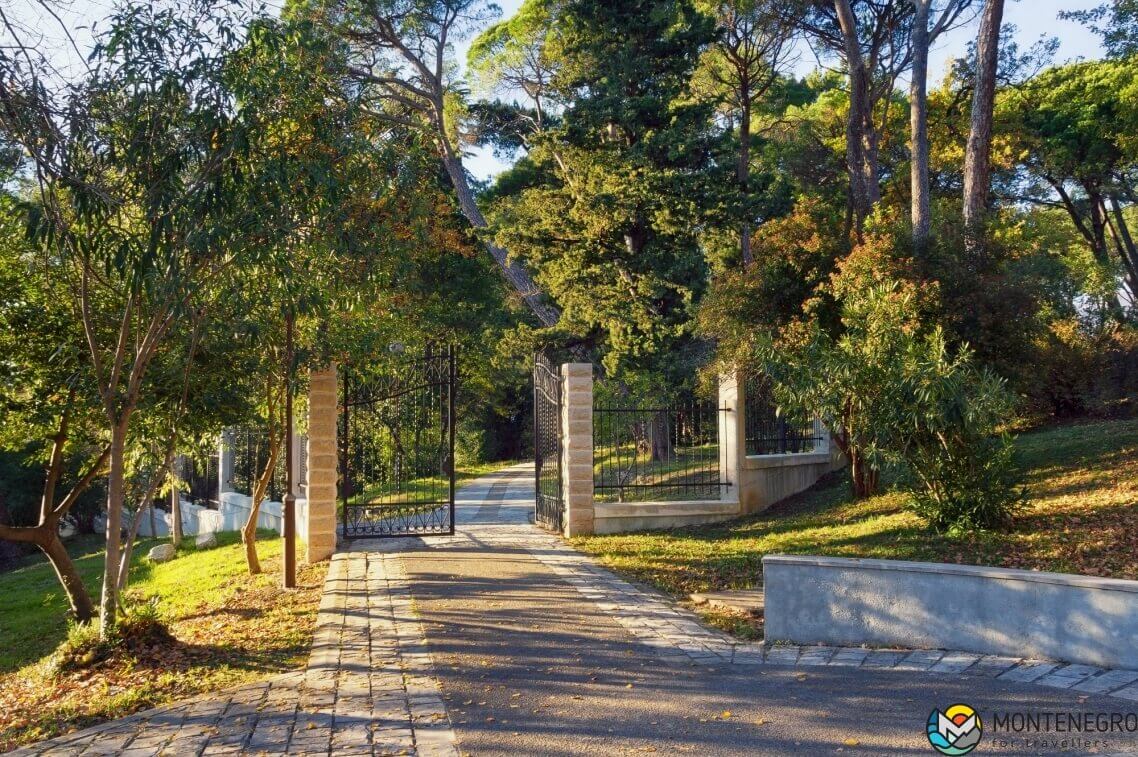 The town park borders the utmost contemporary attraction of the town, that is, Porto Montenegro, a luxury resort. Its construction has had a pivotal effect on Tivat's status and attracts a great number of tourists and yachtsmen.
In the times of Yugoslavia, Tivat used to be a small town with only one backbone enterprise, the Arsenal, a naval shipyard, which was originally commissioned during the Austro-Hungarian rule.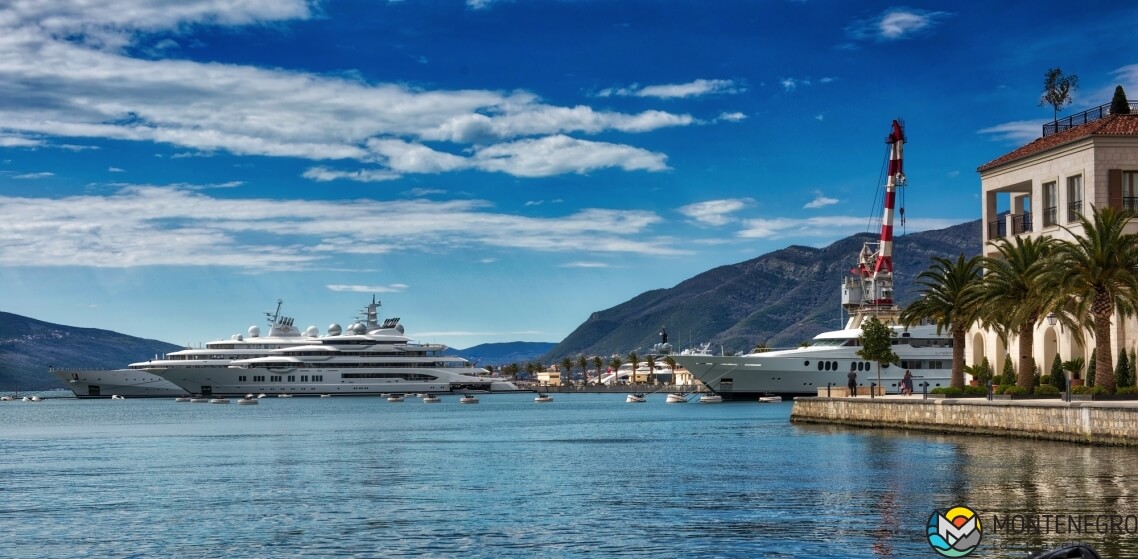 After the war and by early 2000s, the shipyard as well as the country in general went into decline. The place then caught the eye of Peter Munk, a Canadian businessman, who decided to use it to build Adriatic's best luxury town and a marina for superyachts, though before his first visit here he hadn't had the slightest idea as to where on earth Montenegro is.
Some very well-known and high net worth businessmen became shareholders in this project, including Jacob and Nathaniel Rothschild, Bernard Arnault (CEO of Louis Vuitton, Moët, and Hennessy), with some of the shares also owned by Russian tycoon Oleg Deripaska. In 2016, Peter Munk sold the controlling stake to a U.A.E. company.
The resort dates back to 2006, and by now, it has evolved into one of the most famous destinations in Montenegro.
Porto Montenegro in Tivat is a town within a town. All of its venues are open to public. There are a lot of cafes, bars, restaurants to suit every taste. There are fashion boutiques selling clothes, footwear, and accessories by the world's premium brands.
The waterfront promenade in Porto Montenegro is a favorite walking spot for locals and tourists. You make take a bike ride (bicycle parking stands are in good supply), or enjoy your walk while peeking at the yachts. This marina offers an array of most expensive and modern yachts whose owners are attracted by the more lucrative, compared to other Adriatic ports, rates and the marina's state-of-the-art infrastructure.
This place is frequented by the yachts of world-famous celebrities, from movie stars and rock musicians to billions-worth businessmen. Yet, the local homeport services, yacht mooring and berthing costs are lower than in the marinas of the neighboring countries, i.e. in Dubrovnik.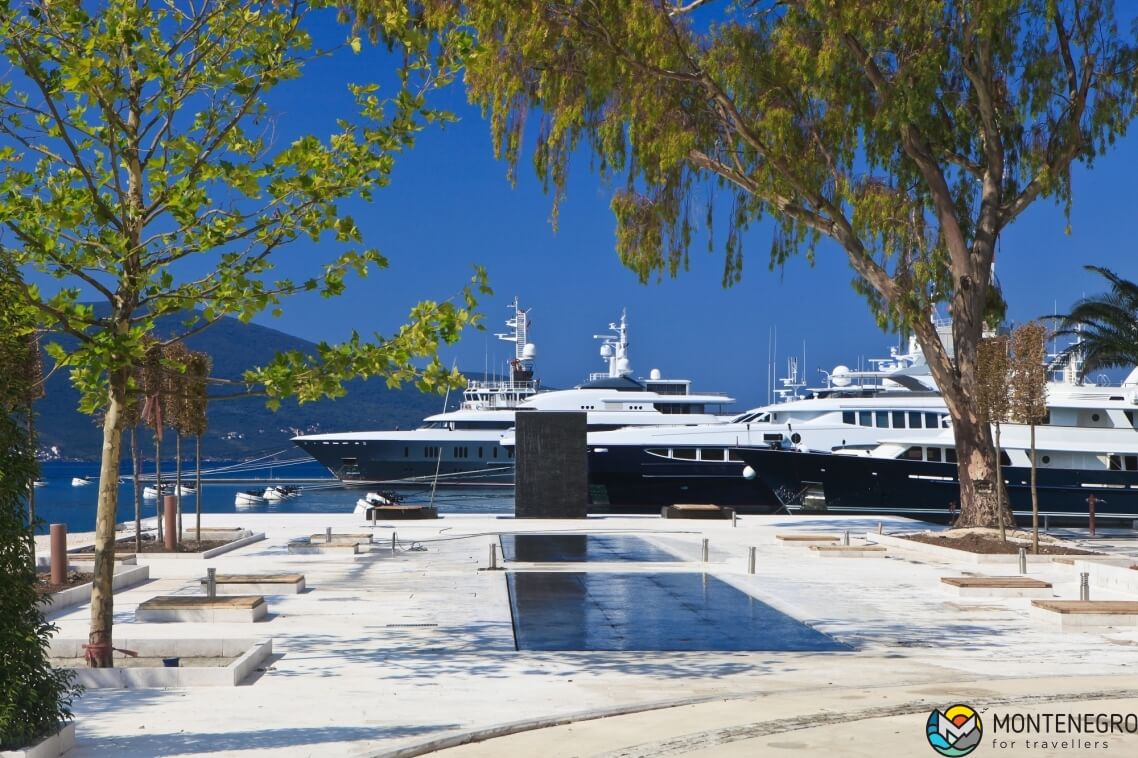 Porto Montenegro offers comfortable residential housing with apartments available for sale or rent for the summer.
The resort's central landmark is the five-star Regent Hotel with a SPA, an elegant restaurant, and coffee shop and a confectionary offering a selection of sophisticated desserts uncommon in Montenegro.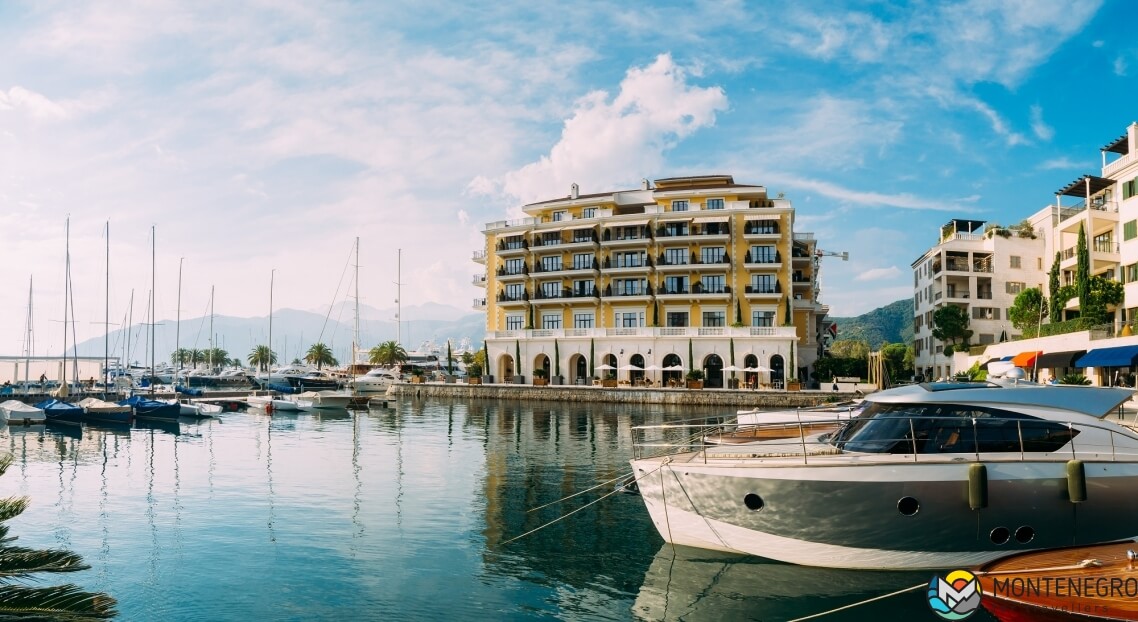 Porto Montenegro also rooms the Maritime Heritage Museum which, in addition to its permanent exhibition, hosts concerts and even music festivals.
Just outside the museum is Heroj, a refurbished Yugoslavian diesel-electric attack submarine. This open-air exhibit is very much loved by children, as the sub's insides offer a fully reconstructed interior, and visitors can imagine how it is to be a submariner, at least for some a moment.
There is everything you may want to have for active leisure, i.e. a yacht club, tennis courts, a gym, a beach with an outdoor pool and many other amenities. Every week, Porto Montenegro hosts small-scale yacht regattas across Boka, while major international competitions are also regularly held.
The Porto Montenegro embankment flows into Pine embankment, a traditional town embankment abundant in cafes and restaurants. Jadran, Montenegro's only three-mast training sailing ship, is frequently moored there. This embankment is also home to small motor boats that take tourists out on short sea trips.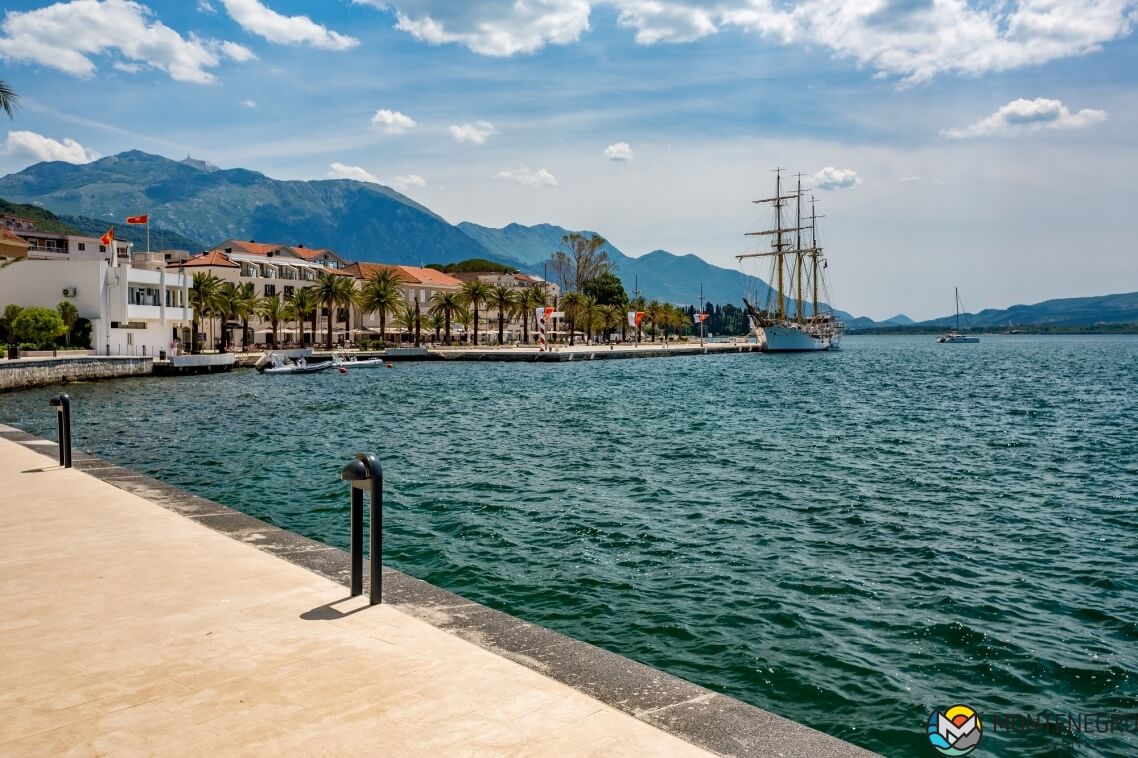 During the recent reconstruction, a sundial was installed on Pine embankment.
Places nearby
Tivat is an exquisitely small town; therefore many of the sights that are worth seeing are located outside it. In Tivat Bay, directly opposite the town, there are three islands, namely, the Island of Flowers (St. Michael's Island, or Miholjska prevlaka), Gospa od Milosti (the Island of the Lady of Mercy), and Sveti Marko, the Island of St. Mark.
The Island of Flowers rooms the monastery of Saint Archangel Michael. Next to it is the Holy Trinity Church built in the XIX c.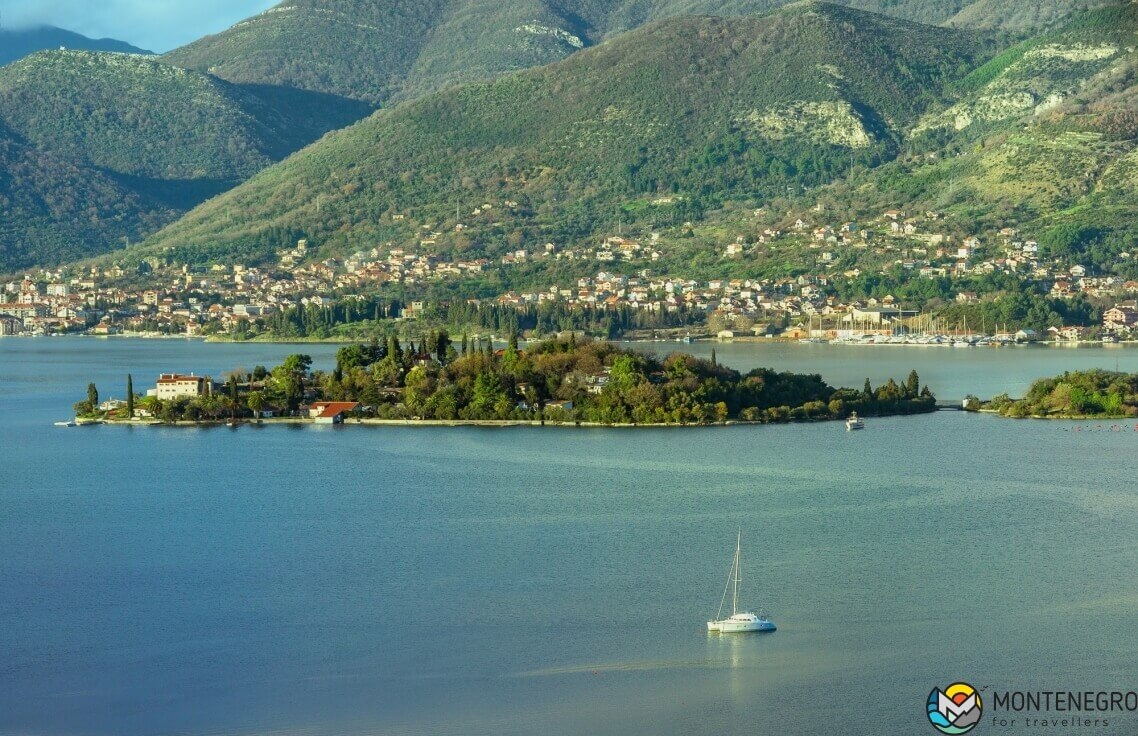 The Island of St. Mark (Stradioti) is not inhabited now. However, in the times of Yugoslavia, it was rented by Club Méditerranée, a French hotel chain. The island used to be a place of retreat with individual cane huts and almost no amenities at all, but people came here to enjoy the pristine nature, centuries-old groves and the warm sea, and to do some water sports. Today, the island is nothing but ruins and debris of the resort.
The smallest island of the three is Gospa od Milosti with a convent by the same name, the church of the Holy Mother, a belfry, an orchard, and some maintenance buildings.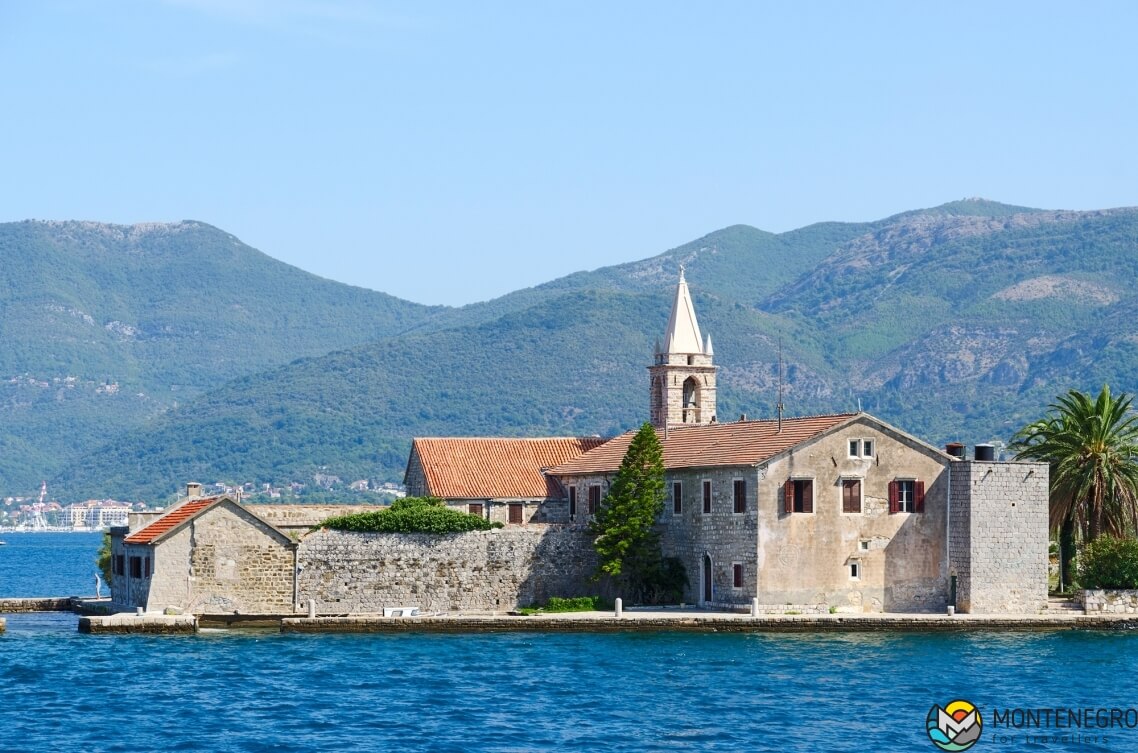 Just a short distance away from the town is Donja Lastva. This used to be a fishing village which has now turned into a resort destination. In the very center of it is a catholic Venetian-style Sveti Rocca church.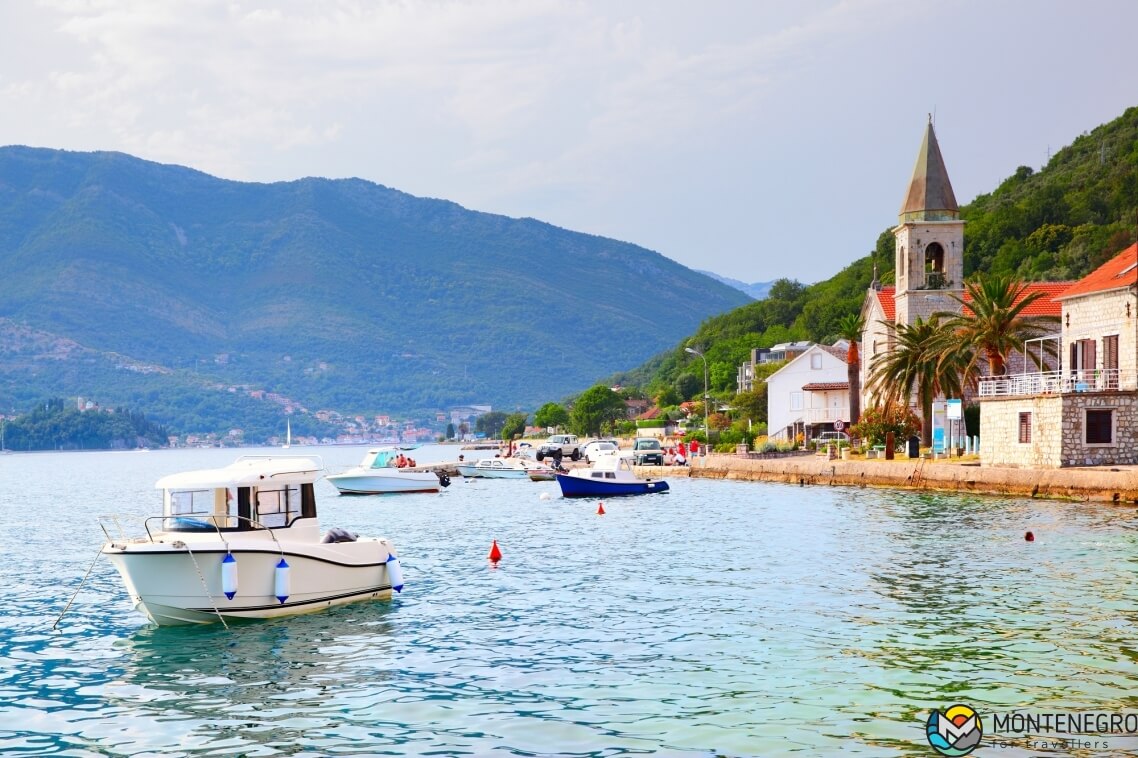 Above this settlement, up in the mountains, is an old and picturesque Gornja (Upper) Lastva. To get there, you may take a walk or get a lift (some 5 km along the road, 300 m above the sea).
First mentions of this place date back to the XVI century. There is an ancient church and a square; many houses are built of stone. In spring and summer, this place becomes a venue of music and gastro festivals, master classes on architecture (due to the abundance of stone buildings in perfect condition), and other events. The settlement provides a great view over the Bay of Tivat.
Just a short distance from Tivat and the airport there is Tivat solila, a unique natural bird sanctuary occupying an area of 150 hectares. Tivat solila borrows its name from the former salt pans which used to be here before this place became what it now is.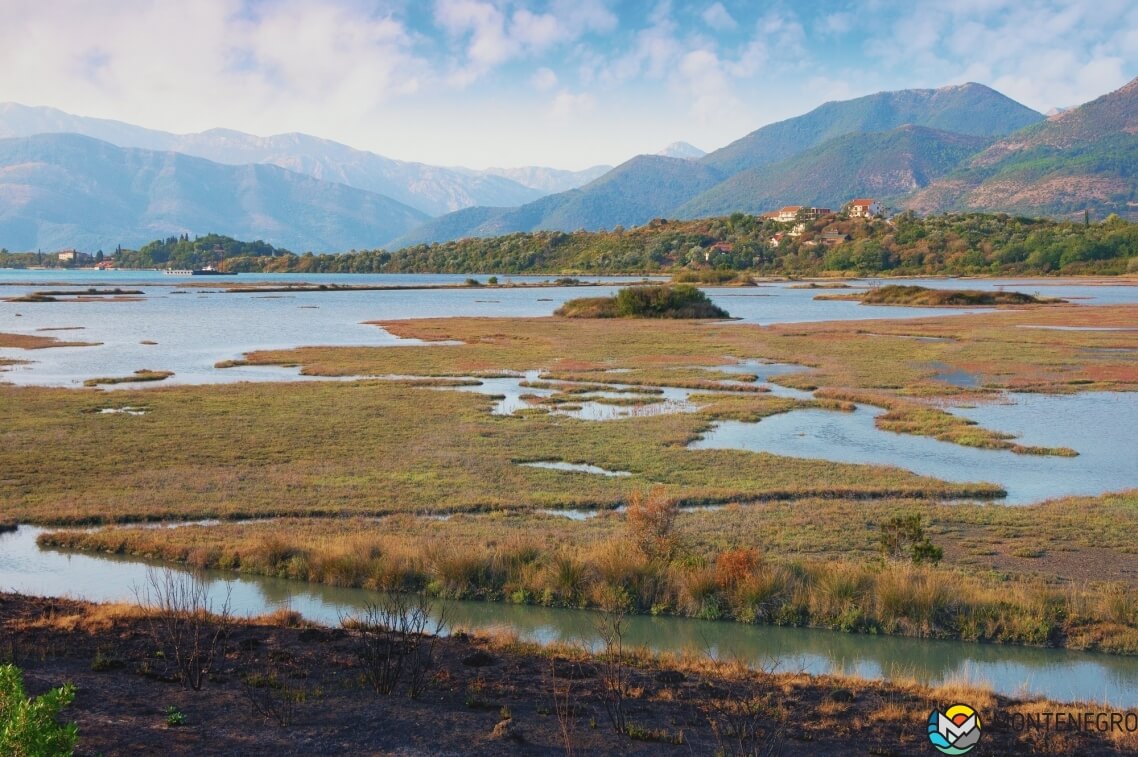 Visitors can watch the life of local and migrant birds in their natural habitat. The sanctuary offers a nesting and wintering home to more than 111 kinds of birds, and one can see flamingos, cormorants, ospreys, plovers, snipes, and gray cranes. The park is open for visits and equipped with special paths. It is recommended to arm with a good pair of binoculars. The best time to visit is between December and May. This is when the sanctuary rooms the greatest number of bird species.
Near Tivat, there are two well-preserved fortresses. To reach one of them, Goražda, an Austro-Hungarian fortress built in 1886, use the old mountain spiral lying between Kotor and Tivat instead of the tunnel. Watch out for the road signs to get you there.
In the vicinity of Goražda, on Mount Vrmac, there is another peculiar fortress also built by Austro-Hungary in 1897 and bearing the same name as the mountain. The fortress encircled with a beautiful grove sits on top of the mountain with a picturesque view of the Bay of Kotor and the mountains.
Beaches
Tivat Bay is different from the open sea and other parts of Boka because its waters are warmer and contain less salt. There are no spacious beaches like by the open sea, but the ones in town and nearby are commended by tourists. The beaches in Luštica bay just a minutes' drive from Tivat are known throughout Montenegro.
There are two organized fine-pebble beaches worth mentioning, Zupa and Belane, both right in town. All other places suited for swimming are out of town.
Seljanovo, an area with organized beaches, is very near. Waikiki, a pebbly beach equipped with a bar and a café, is one of the most popular beaches in this area. If you drive further towards where the ferry line is, there are Opatovo and Donja Lastva beaches.
If you travel from Tivat to the airport, an easy-to-locate Kalardovo beach is another point of interest. It is fully equipped with all necessary amenities, including a restaurant and a parking lot. This place is loved by children because the water is warm, the water entry is flat, and there is sandy bottom. It is to be noted that by its color, the waters in this part of the bay resemble freshwater because of the lower salt content and sandy bottom.
The above-mentioned Island of Flowers also has some beaches, or, rather, places to swim at with pebbly water entrance. These have practically no amenities. Yet, this remote location hidden away by the shadowy trees offers nice and cozy solitude and is nice to spend time at even on hottest days.
One of the country's cleanest beaches is Plavi Horizonti on the Luštica peninsula. It is by the open sea, rather wide and spacious, and has flat water entry. This is why it is so much in favor with families with little children. Luštica's other open-sea beaches, Zanjice and Miriste, are at a greater distance from Tivat but easy to reach by car.
Leisure
Tivat offers a range of options for active pastime. There is a rent-a-bike service and cycling lanes in town, which are rarely seen anywhere else in Montenegro.
One can do some water sports too, from windsurfing and yachting to diving and water skiing. Hikers will appreciate hiking up in the mountains with beautiful landscapes and architectural landmarks in plenty.
In Porto Montenegro, there is a night club Platinum, but night life is not as lavish in Tivat as in Budva or Podgorica.
On the other hand, Tivat is a place for diverse cultural events all year round, including concerts, music festivals, and even carnivals.
The ones that have become traditional include Tivat Carnival, gastronomic Žućenica fest (žućenica is a plant looking like a dandelion and used as an ingredient in a great deal of dishes), Mediterranean Theater Festival. On the first Saturday in August Gornja Lastva becomes the venue of Lastovskij Fest, a festival with an indulging cultural and gastronomic agenda.
Tivat is often a place for exhibitions by famous artists and photographers.
Restaurants
Restaurants of Porto Montenegro have a strong following among tourists and locals of Montenegro. Alongside Italian and Mediterranean cuisine, the offer is sprinkled with specialties like sushi served at Mitsu Restaurant or Sumosan or Lebanon cuisine served at Byblos. For signature Adriatic menu, visit restaurant One.
Montenegro is only developing a liking for Asian food. Yet, because of the many tourists from Russian and EU countries, Ukemochi Noodle Bar was among the first Asian eateries to open here.
Al Posto Gusto is one of the most affordable places to eat at and a must-visit for admirers of Italian food, with locally served pizzas, pastas, salads, and deserts.
Lovers of ice-cream are advised to turn their attention to Moritz Eis, an ice-cream shop of a brand originally born in Serbia and offering organic, fresh, hand-crafted classic and signature ice-creams and sorbets. Prices are a little higher than generally in Montenegro.
There is a French patisserie and a coffee shop on the ground floor at the Regent hotel.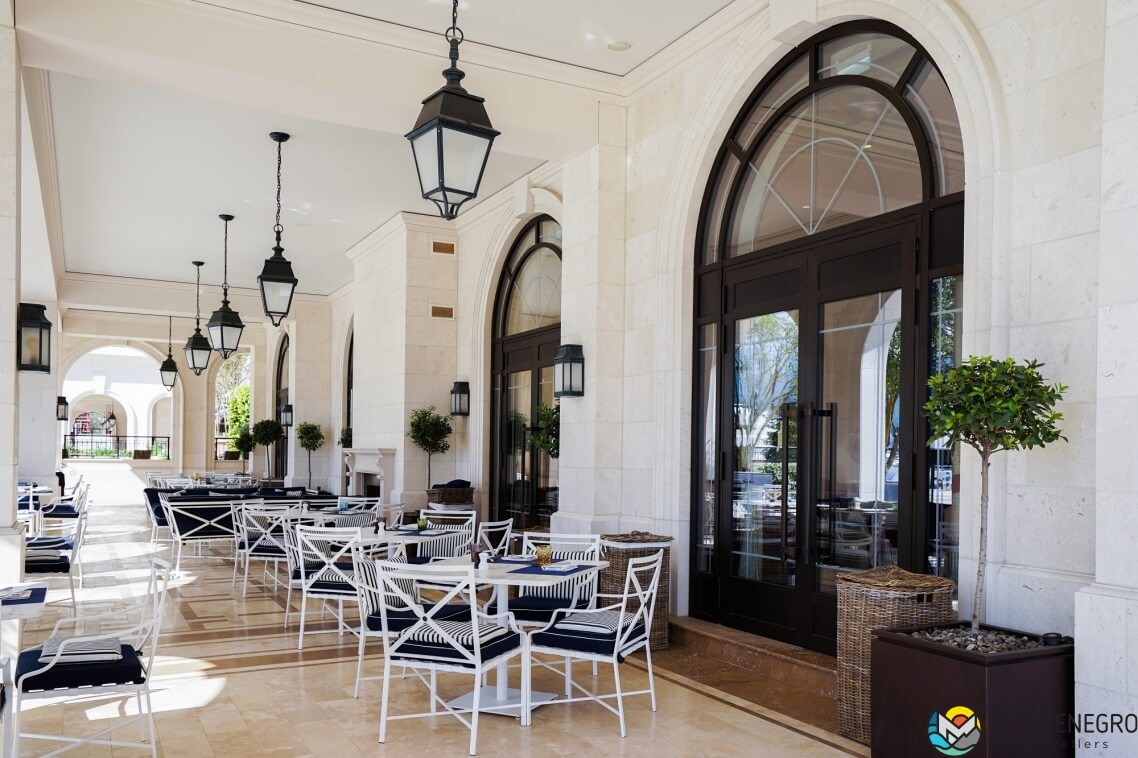 The town itself competes with Porto in terms of restaurants to meet any taste. There are lots of cafes, bars, and fast-food venues offering traditional food.
Bevanda Ristorante & Pizzeria (Šetalište Iva Vizina 3) will treat you to fruits of the sea and Italian food, with a nice sea view as a bonus.
When in Donja Lastva, do not miss the waterfront restaurant of Eco Hotel Carrubba. It serves Adriatic and signature dishes and offers an eye-pleasing view of the bay and St. Rocca Church.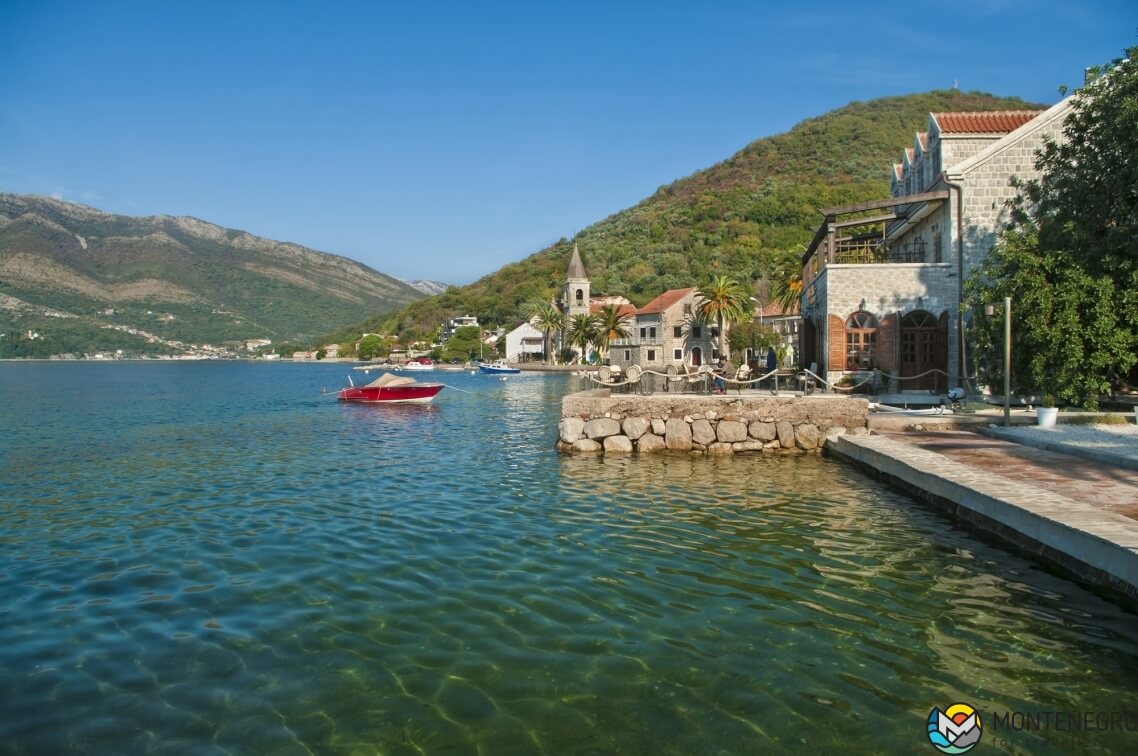 The Black Sheep (Ribarski put) is the only gastropub in town. Lovers of burgers, beer, and public screening of sports may find this place worthy of visiting.
To lovers of craft beers, Craft Café (Šetalište Iva Vizina 4) is a place to recommend. Its menu offers a selection of Mediterranean dishes, craft beers, cocktails, traditional coffee, and fruit teas. The café is at the waterfront.